Please view our latest Sport News below
Marshland High - Proud Athletics Day May 22nd 2017 at Lynnsport.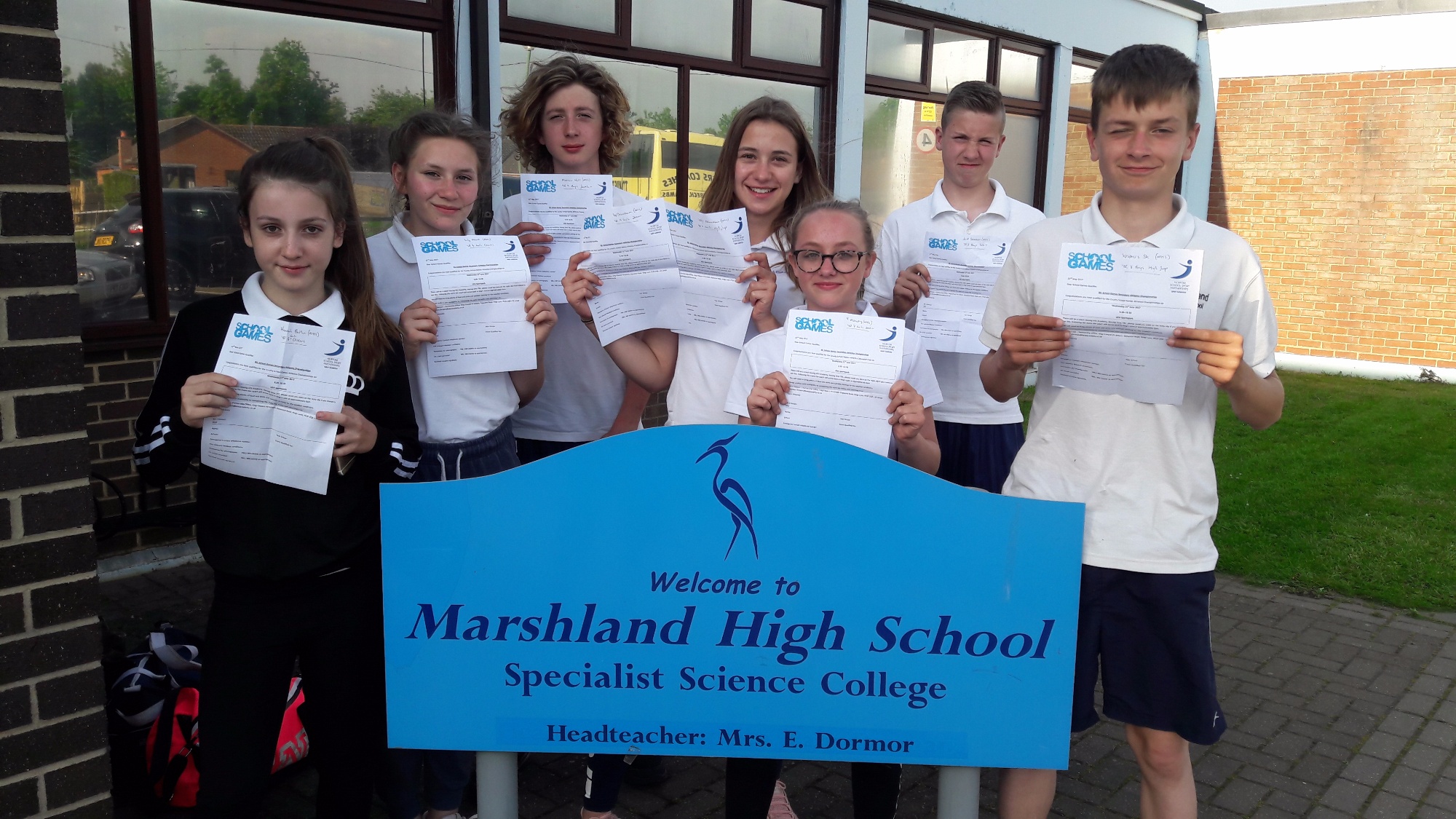 On Monday 22nd May the Marshland High School Athletics Squad (years 7-10, boys and girls) set out to compete against the other schools in the district.
All the pupils performed extremely well with team managers Mr Swinburn, Mrs Beck and Mrs Broda commenting upon how proud they were of all of them. And what a great advert for the school they were! Impeccable and respectful behaviour from all.
There were also some blockbuster performances with no less than seven athletes being selected for the District team to go on and compete in the Norfolk games.
These are: Hannah Butlin (Discus) Lily Ward (Discus), Marcus Holt (Javelin), Izzy Downham (200m and High Jump) Tallulah Moxey (200m) Jack Seaman (Shot Put) and Kristers Skribans (High Jump).
The School and the PE department are rightfully very proud of all the students in a very large team from a small school.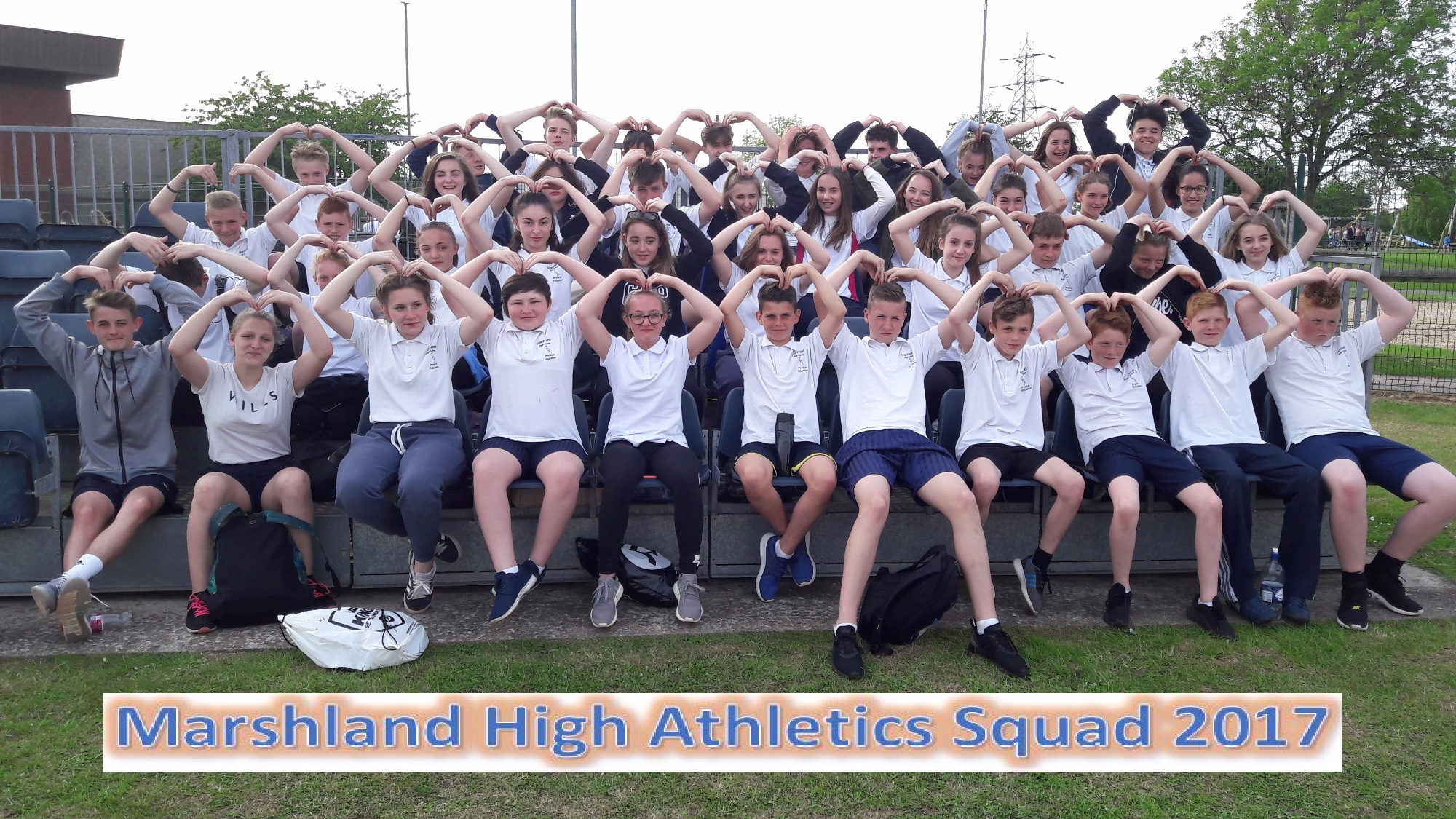 under 14s basketball team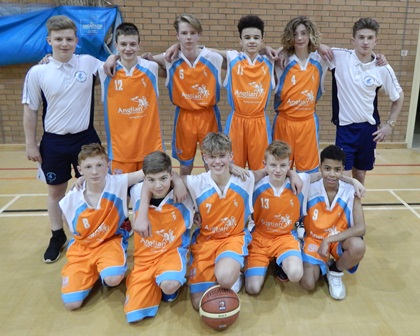 On 30th March, our under 14s basketball team travelled to Northampton School for Boys for their Central Zone Semi-final of the National Schools Competition. Only twelve teams remained in the competition, so to get to this stage is an amazing achievement. This was our cup final and we had been preparing for it as if it was.
After an intense warm up, and with the crowd of around 50 along with the camera man ready, the game began with both teams matching up very evenly, both trading early baskets. Donatats Verikas was on fire for us scoring our first ten points, some of the baskets were that unbelievable that he had the crowd clapping in appreciation. Much stronger officiating than the team were used to led to us getting into foul trouble early which cost us some points but a 3 pointer from Pawel Kaluzny closed the gap and we ended the quarter 23-18 down.
In the second period, Northampton changed their tactics and double, sometimes triple teamed against Donatas Verikas. This had never happened to us before which led to us panicking and making some silly mistakes, but after a time out and a change of tactics we started to score some nice team basics taking advantage of the spare man. However Northampton showed how strong they were to take a 49-26 lead at half time.
In the second half we competed far better, losing the third period 19-18 and winning the final period 20-12, so we actually won the second half by seven points which is a great credit to Marshland against a team who were technically very good, well organised and tactically impeccable - even their bench players didn't weaken their side.
At no stage did the boys let their heads drop, they played with pride and passion and at times played some very good attacking basketball. Offensively we played very well, scoring some extremely good team and solo baskets.
Players of the match went to superstar Donatas Verikas who was the best player on the court, he scored 24 points including a three pointer, and he now has 155 points this season and 423 points since the start of year 7. Jaden Carter took the second player of the match award; his attitude, work rate and determination was outstanding, he didn't stop running and was a key player on offence and defence, scoring 9 points. Special mention to captain Marcus Holt who scored 16 points and made lots of key blocks and rebounds. Other point scorers were Kristers Skribans, who scored 6, and Jordan Adebisi and Ant Sigurdsson, who scored 2 each.
Thank you also for the input of the four year 10 boys. Their coaching has been so instrumental in the team's success. So thank you Lewis Theobald, Jack Lane, Tom Gourley and Lewis Jackson.
What an outstanding season for the team! District and County Champions, and they beat the Lincs, Notts and Warwickshire County Champions as well as making the last twelve of a National Competition. Congratulations to the whole squad!
I am extremely proud of each and every one of the team. They have worked so hard and achieved so much.
U14 girls' Marshland High School V Springwood 21-3-17.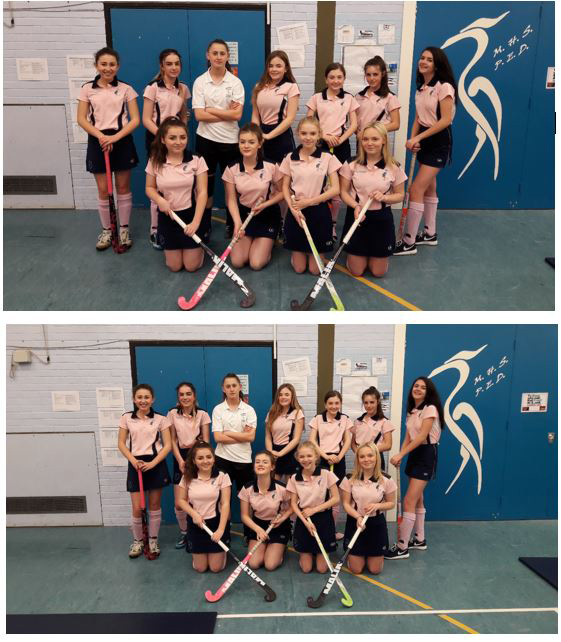 After recent wins over The Convent of the Sacred Heart (6-0) and KLA (7-0), Marshland U14 Pink Ladies faced their biggest challenge to date, against a strong Springwood team. 7 Pink Ladies team regulars called off due to illness, injury or absence, so who could help us out at short notice and still make us semi competitive against the strongest team we could face? Springwood boast players of county standard (4 of them) and two who play for Pelicans ladies FIRST team - regularly score for them. However, up stepped the school girls of Years 7, 8 and 9 to fill in our substantial gaps, but with another call off just before the game, we had 11 players and no substitutes!
Once the game got underway, Marshland attacked first and took the opposition by surprise. Grace Ashton got the first shot under way after Scarlett Farrell had made a nuisance of herself and made one of their county player make a mistake, then Neve Curson latched on to the ball and crossed smartly for Grace's first time effort to be saved by their keeper. Up popped their main player who beat a couple of our girls and went baring down on goal. A lesser keeper would've stayed in their goal, but Savanna judged the situation perfectly with a great sliding save, clearing the ball to safety and sending their player into the air – clearly our girls were up for the challenge and were going to make Springwood fight for every ball.
Another mazy run by their best player, after seizing a loose pass from the side lines, resulted in the first goal of the match. Our girls looked down, but a rallying call soon got us back up for it. Savanna was soon called into action again as she kept the opposition at bay with two more saves and the ever improving Eyrn Campbell, who was turning in a star performance, was so strong at the centre back position.
In the second half, Lucie Wicks, who was man marking their best player really stepped up and battled her for everything – winning most of those battles. Georgia Snape saw this and upped her game too and soon all of our players responded. The game was fiercely contended now. Evie Emmett solid as a rock at the back was making tackle after tackle, with the able Shanley O'Shea clearing up anything that got past her. Ruby Venni made a crucial and crunching tackle on their number one player when it looked like she'd get through again. Eryn Campbell smashed the ball up the pitch and found Georgia with a lovely ball. After taking two players on, the ball was lost to their main player – she was everywhere – Lucie Wicks timed her tackle to perfection and came away with the ball, and sent Grace Ashton away. Grace broke to the right and Neve Curson saw an opportunity. Neve crossed over to the left and split the defence, Grace saw her and sent a beautiful reverse pass to her. We had breached Springwood's very strong defence. Out came the goalkeeper with Neve dribbling at her – she looked to the right, the keeper fell for it and Neve – as calm as you like slotted the ball into the bottom left. A stunning move. 1-1.
A clear ethos of putting that goal out of our minds was apparent as we really took the game to Springwood. Their better players, except one, we're visibly down. We flooded forward with Bobbi Muscat and Scarlett Farrell now marking one of their county players. After brilliant play involving Shanley, Evie Emmett's, Neve and Grace, we were awarded a short corner. Neve sent the ball out to Georgia who skilfully beat a player and smashed the ball past the goalkeeper. WE WERE 2-1 up!!!! The girls cheered and sprinted back to their stating positions. Springwood trudged back to theirs.
Another Marshland attack after Lucie had tackled the ball masterfully from her marker, who was trying everything she knew. Georgia was on her own and Lucie quickly moved the ball to her. Their best player nipped in front of Georgia and took the ball from her. She ran the full length of the pitch dribbling the ball like crazy with all our girls running back to help. Our defence did what they could to slow her down but she was on fire! Savanna came out and got her foot to the shot, but it was too powerful and the Springwood support went hysterical as they equalised 2-2!
A skilful dribble from firstly Georgia, then Neve sent Scarlett away. Grace did well to hold onto the ball after being surrounded, then Bobbi got to it. She took on a county player and passed to Lucie, who got dispossessed by their main threat. Breath-taking skills shown by the opposition were soon dampened by a crunching tackle from Evie Emmett, but the ball broke for another of their county players, who had been quiet all game. A lovely drag skill saw her go clear – out came our keeper Sav. No need to worry as a fantastic tackle by Ruby Venni stopped her in her tracks. She got the ball to Eyrn, who sent Georgia away. Springwood were caught on the break and were not doing enough to catch us. The ball came to Scarlett, who needed help from Bobbi. A good tackle sent the ball into the middle of the pitch, just where their best player was occupying space. Lucie Wicks pounced and there was a tussle for the ball, but strength and skill prevailed. Lucie came out with the ball and sent Grace away who was having a sublime game. She forced a short corner.
Neve slapped the ball powerfully out to Georgia, who with skill, beat two plyers and again thumped the ball into the bottom corner leaving the goalkeeper no chance. 3-2 to us!
The game only had five minutes left. Springwood looked down. A breakaway from one of their excellent players saw Savanna save a ball onto the post. A goal line scramble saw their second phase shot hit the same post again. The ball shot, at speed, across the face of our goal and hit the other post. Their umpire waved play on. Their teacher shouted "post, come on girls". Mr Swinburn shouted for Evie to smash the ball away. Parents on the side claimed a goal. Play halted. The opposition umpire paused…………………… Goal awarded. Our girls we're sure they survived, but to their credit, never argued. 3-3! What a match!
U14 Girls' Hockey Marshland High School V Convent of the Sacred Heart 28-2-17
Marshland High School 6-0 Convent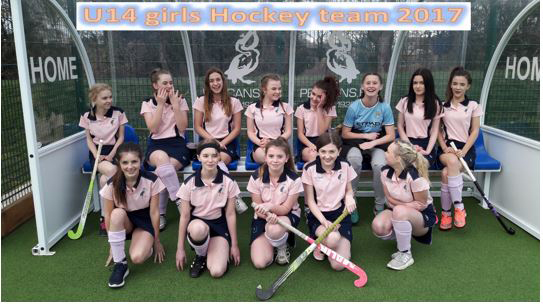 Last night our U14 Girl's hockey team started their Marshland Pink Ladies Hockey campaign in the League, with four players making their debut, 3 of whom were Year 7s. The game was against the Convent of the Sacred Heart with whom we had previously drawn 0-0 in the cup earlier on in the year.
The game started at a terrific pace with both teams having good possession and using a counter attack tactic. It was end to end which saw a midfield battle of Kizzy Moxey, Georgia Snape and Lucie Wicks and the Convent players having a real tough tackling match.
Savanna Plavecz, in goal, was called upon first to save smartly. Her precise clearance sent the ball to Chloe Sutherland, she rounded one player to send in Erin Pattinson who was thwarted by the opposition captain – a great tackle.
Soon our midfield trio were getting a grip on the game. All of a sudden Georgia sent Izzy Downham down the pitch and her cross found Neve Curson whose shot hit a defender's foot – our first short corner. From that short corner came a shot from Lucie Wicks. Their goalkeeper saved it and Georgia followed it up, another block from a defender. The ball bounced loosely to Lucie who solidly hit the ball into the bottom corner.
That goal changed the game. The confidence within our team was evident for all to see. Our midfield pushed up, so did our defence – Evie Emmett stopping every Convent attack and smashing the ball to our midfielders. Georgia provided a bit of individual brilliance after being sent away by Evie with a lovely pass, she rounded 3 opposition players and shot firmly home in exactly the same spot Lucie had found just five minutes earlier.
Sterling work by Ruby Venni at left back and Tegan Mattless at sweeper, stopped a couple of fast break attacks and the impressive Kizzy was at the heart of everything our team was doing to regain possession.
Grace Ashton received a pass from Ruby, and she crossed the ball for Chloe Gatward who did some amazing skills and found Georgia in lots of space, to thump the ball past the opposition goalie for our third.
The start of the second half saw Mr Swinburn change positions around. Kizzy was now more of an attacking midfielder with Lucie, Grace and Georgia moving to the back, and Evie was now in midfield.
Wow, what a start. Lucie scored her second goal quite quickly with a lovely precise shot that took a deflection, and that drained the opposition. Erin was now turning on the style, linking really well with Evie and Izzy. Izzy was tearing the opposition to pieces with her hard running and pace, as she started to understand her position more. This resulted in us gaining lots possession, short and long corners. Georgia dispatched one short corner to score her hat-trick.
Neve was very persistent, and was a key player in linking the whole midfield to attack. Chloe Sutherland linked well with Chloe Gatward, who was displaying some lovely skills. Izzy broke away again, her cross found Neve and she pushed the ball to Kizzy, who with her back to goal, turned sharply left and cracked her shot firmly into the bottom corner. A great goal.
Final whistle and the final score was 6-0 to the Pink Ladies. A great performance from a lovely team who have tremendous teamwork. The captain, Georgia and Kizzy, then made sure everyone on the team, and the opposition's player of the match, received a pancake, with lemon, sugar and Nutella. Well, it was Pancake Day!! What a superb touch from a great bunch! Well done girls. We are all very proud of you.
Marshland High School 6-0 Convent
Players were:
Savannah Plavecz, Evie Emmett, Ruby Venni, Teagan Mattless, Kizzy Moxey, Lucie Wicks, Chloe Gatward, Izzy Downham, Chloe Sutherland, Georgia Snape, Neve Curson, Erin Pattinson, Grace Ashton.
Scorers:
Georgia Snape x3
Lucie Wicks x2
Kizzy Moxey
Thanks to Pelicans HC for the use of their new facilities.
Players of the match – Georgia Snape, Kizzy Moxey and Evie Emmett.
Under 14s District and Norfolk County Champions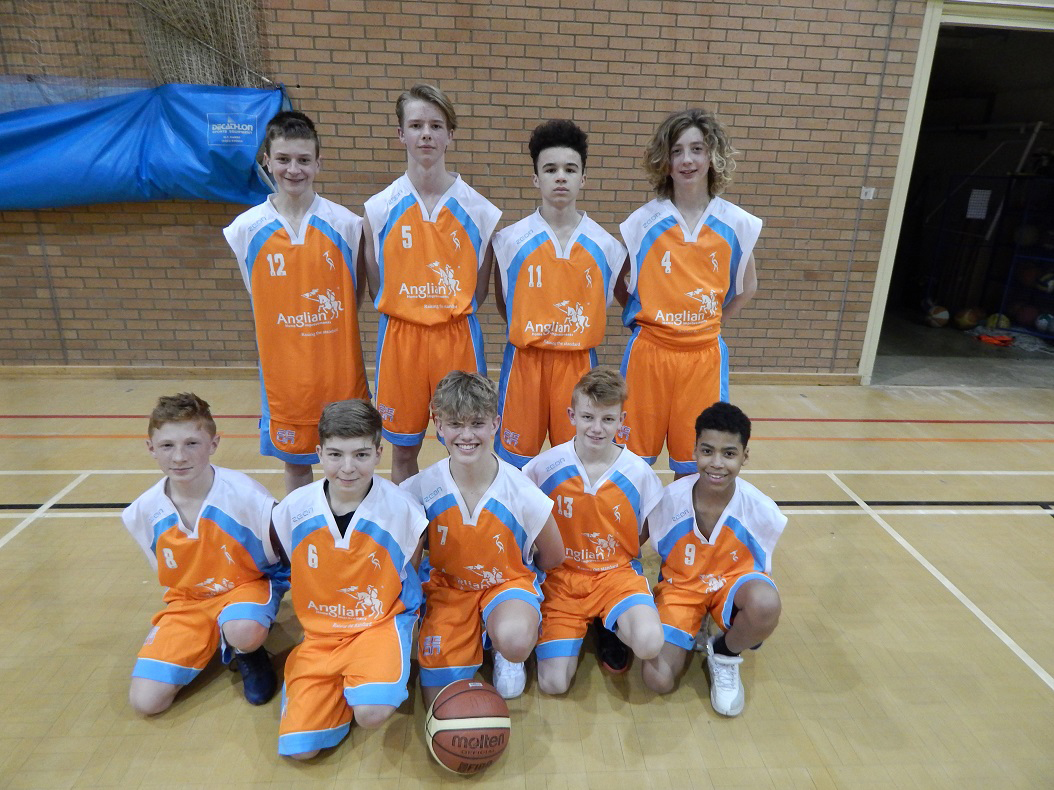 On Tuesday 7th March, Marshland High School's Under 14s District and Norfolk County Champions travelled to Spalding Grammar School for the first regional round of the National Schools basketball competition. To qualify for the next round they had to beat both the Lincolnshire county champions, Spalding Grammar School, and the Nottinghamshire champions, Arnold High School. The team have been training very hard for the biggest fixture in their young basketball careers, and were confident of a positive result due to having never lost a match in the Marshland orange.
First they took on Arnold Hill Academy, and started nervously particularly on offence and at half time the score was 4-2. In the second half the team settled down and continued their good defensive work and gained confidence at the other end, and the final score was 16-8 against a strong team from Nottingham. Donatas Verikas scored 8 points, with Marcus Holt and Jaden Carter getting 4 each.
The second game was against a much stronger Spalding Grammar School, who beat Arnold High earlier in the evening, so it was a "winner take all" match. This time there were no nerves and Marshland played to a very high standard, the work they'd put in during training was evident on court and they scored some fantastic team baskets, with brilliant passing and movement across the court. By half time the job was all but done, taking an 18-2 lead after a supremely impressive display as a team. In the second half the team rotated to give everyone deserved court time and the score finished 24-4. Superstar Dontatas Verikas showed just how special a player he is throughout the match leading the team, scoring 16 points and marking their best player out of the game. The rest of the points came from captain Marcus Holt, Jaden Carter and Frankie Wright. Every player had a massive impact on both games and players of the matches were not awarded to reflect this.
Marshland now move on to the last 16 of the competition and will face the Warwickshire champions, Alcester Grammar School. This is a special and outstanding achievement for the team to be the best team in the whole of three counties and to be in the last 16 of a national competition. Teacher in charge of basketball, Mr Stannard said, "The team and the school should be extremely proud, I certainly am. It was amazing to watch these extremely talented boys perform to such a high level."
The squad were Marcus Holt, Donatas Verikas, Jaden Carter, Frankie Wright, Pawel Kaluzny, Ryan Jackson, Jordan Adebesi, Kristers Skribans and Ant Siguardson.
Special mention for year 10s Lewis Jackson and Lewis Theobald, who gave up their time to come and coach the team and to help run the games. They had a really positive influence on the team. Those two, along with Jack Lane and Tom Gourley, have also been helping the team on a weekly basis at training, and these four are also a massive credit to the school and have helped the year 9s so much.
Dom Stannard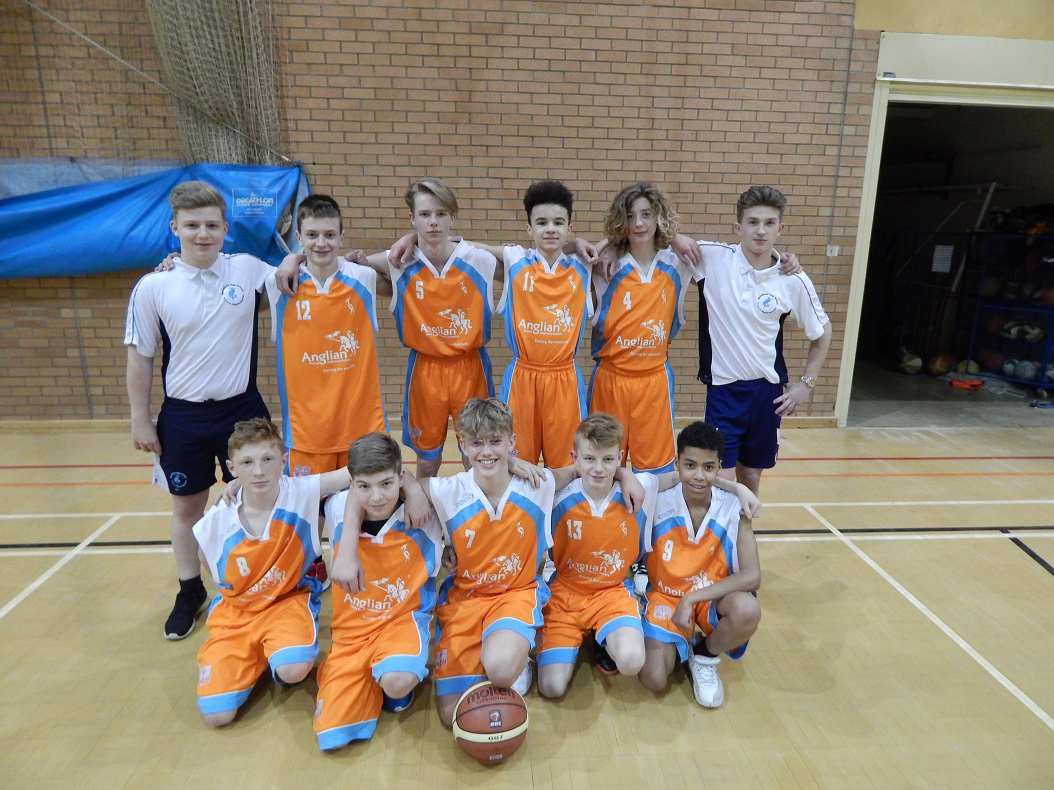 U12 MIXED Marshland High School V District Development Tournament, (7-2-17.)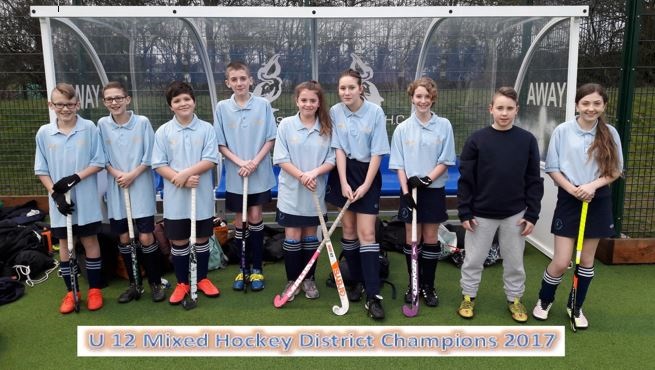 On Tuesday 7th February, our U12 mixed hockey team starred in the district development tournament, 10 players starting their Marshland High School hockey careers.
The players were chosen for their success in lessons and their involvement with the school's very successful indoor hockey club, which has developed close skills and hockey awareness, rules, enthusiasm, etc.
We turned up the world class facilities at Pelicans Hockey Club and some of the children were a little in awe at the sheer scale of the facilities, although all were inspired.
We started immediately with 4 games on the trot! First off we played Sacred Heart and gained a 2-0 win with Chloe Gatward smashing the ball into the far corner and Erin Pattinson who shot and the ball was kicked off the line – the umpire signalled a goal. Three cheers ensued at the end of the game.
The next game was against Sports College KES. We started ever so well with Ethan Payne and Ellis Williams knocking the ball around causing the opposition to defend deep. Chloe Gatward needed no invitation to score her second into the far corner and Grace Ashton took on a couple of players and rounded the goalkeeper to smartly shoot home – a great goal. Final score 2-0. More three cheers. Next up were Hamonds, who had some great players. An end to end game where our goalkeeper – James Watson – made some important saves and the busy Aiden Falkus and Jordan Bown shoring up the defence with tackle after tackle. The only goal of the game came from Erin Pattinson who shot firmly into the bottom corner leaving the Hamond's goalie no chance. Three cheers for the opposition.
We were the only team who had not had a game off in the tournament and our fitness was draining. Lots of tired faces looked troubled as we faced a fresh Springwood team who fielded a team of BOYS against us. Treating that as a compliment the Marshland mixed team took to their task, but a flowing move from the opposition meant we went 1-0 down early, after a couple of great saves by James in our goal. After that it was mainly us. Lily Ward really coming to the fore and making the life of their defence problematic with tireless chasing and some lovely skilful touches. Ethan Payne had a couple of half chances, then he hit the post with a long range rasping effort – so close. A smart save from James again set off Chloe and Erin but their panicked defence managed to survive our onslaught – a 1-0 defeat. Three cheers and handshakes all around – The district teachers, parents on the side and the Pelicans coaches and umpires were starting to lift their heads and notice our Marshland team.
The team showed some smashing character after that. We finally got a game's rest, a few tactical alterations and pointers were given and we set about KLA for our final match. Aiden Falkus was playing up front now and showed some solid touches as we piled on the pressure. Ethan and Ellis were battling away doing their jobs perfectly when Lily Ward broke away. Playing the pivotal centre attack role she drew the defender and set Chloe Gatward away with a wonderful defence splitting ball. Chloe made no mistake scoring her third of the competition. Erin was next up with a run from the half way point after Jordan Bown had dispossessed a dangerous attack with a good tackle. Erin rounded three outfield players to firmly thump home her third goal of the competition. Grace got in on the action too, with a neat shot that was again kicked off the line, the umpire signalling a goal. Grace's second of the competition. The final whistle blew and three cheers went up for the opposition again, handshakes all around and the tournament debrief ensued.
Marshland champions of the Mixed U12 Development Tournament and 9 new Marshland hockey players that Mr Swinburn and the entire school are sooooo proud of! Well done! You have great potential in this sport – who knows where it will lead. Three cheers for all of you!
So proud of them all, what a team performance!
Players were:
James Wilson, Chloe Gatward, Ethan Payne, Aiden Falkus, Erin Pattinson, Jordan Bown, Lily Ward, Ellis Williams, Grace Ashton.
Thanks to Pelicans HC for the use of their new facilities.
Scorers:
Chloe Gatward x3
Erin Pattinson x3
Grace Ashton x2
Marshland High School 2-0 Sacred Heart
Marshland High School 2-0 KES
Marshland High School 1-0 Hammonds
Marshland High School 0-1 Springwood
Marshland High School 3-0 KLA
Players of the tournament – Chloe Gatward, Erin Pattinson and Grace Ashton.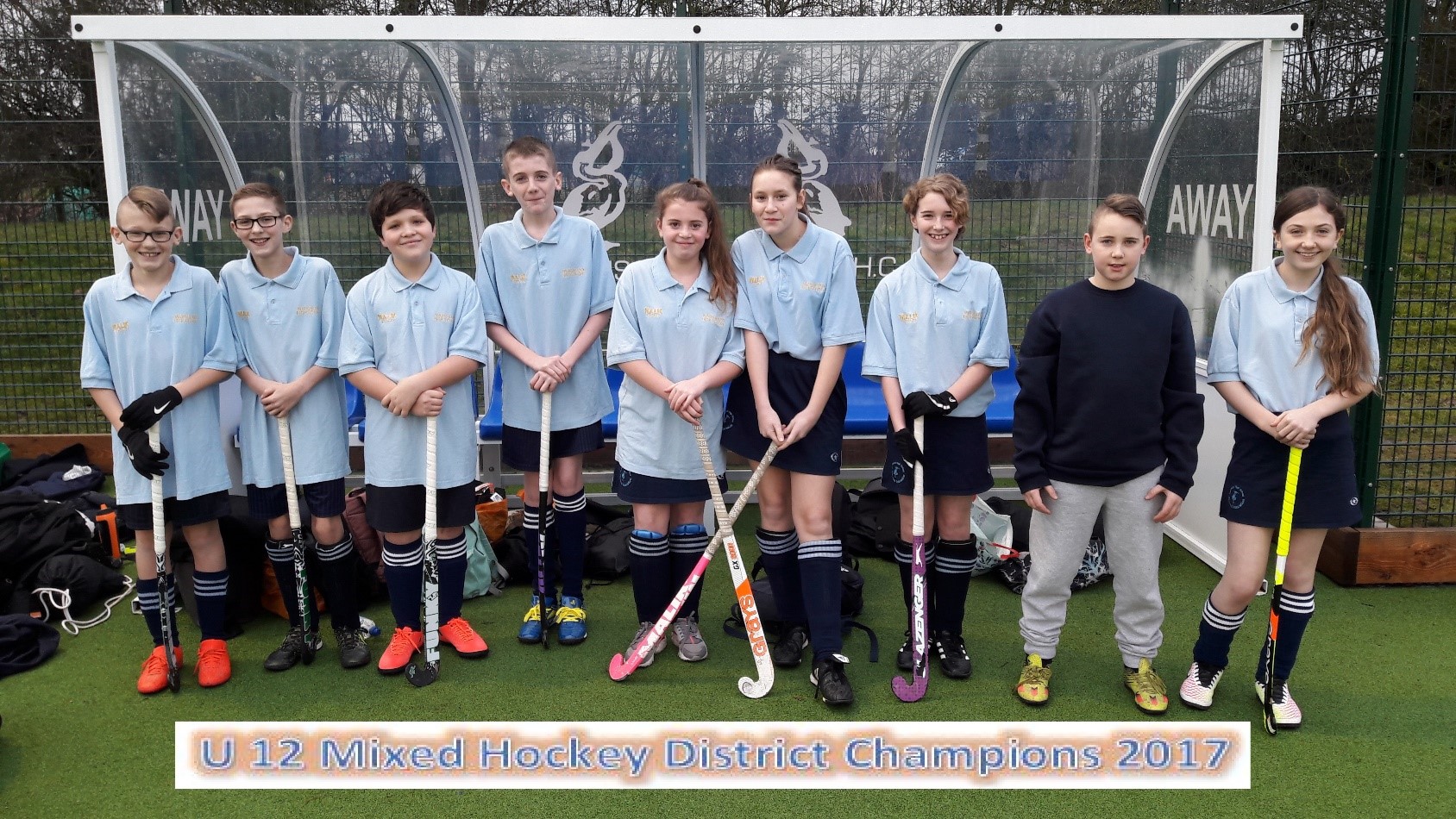 Inter-School Sports Results Table

Bethan McCarthy picked for England U17 roller hockey ladies

Bethan McCarthy has been selected to play roller hockey for Team England U17 ladies in Italy at the European Championships in December.
Bethan is also the captain for the upcoming championships.
Bethan plays for Peterborough Roller Hockey club at Under 17s and National Division 3 and plays for Team England ladies seniors team in National Division 2., and she captains for all three teams.
Currently. Bethan is sponsored by Vauxhall Thurlow Nunn at Wisbech and would like to thank them for their support.
England Ladies Under 17 Team will participate in the Euro Cup in Breganze, Italy, from December 15 to 19.
Everyone at Marshland High School sends their good wishes and luck for the upcoming Championship.


U16 girls' Marshland High School V Convent of the Sacred Heart – Hockey District League Match. 5.10.16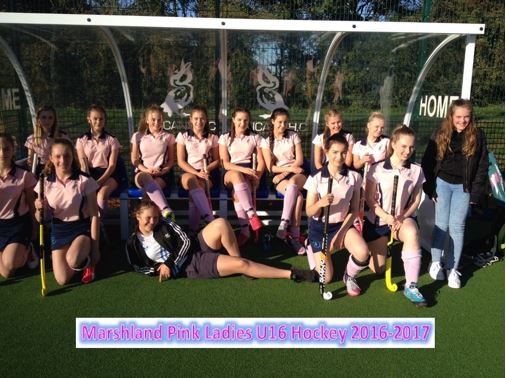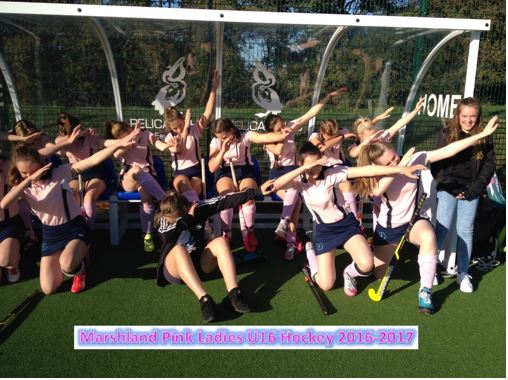 On Wednesday 5 October, our Marshland Pink Ladies U16 girls' hockey (first team) started the defence of their league title against a strong Convent team.
We arrived early for a little bit of training on the world class pitch that Pelicans Hockey Club kindly provide for all the league matches of the district. The pupils took to the pitch and looked at home with some slick passing, dribbling and shooting drills.
The game started and was very much a midfield battle for the first 10 minutes with the game pretty even. Our midfield started to dominate and this changed the match dramatically, Lucie Wicks in the centre back roll was stopping everything the well drilled and skilful Convent team had to offer. She also gave Georgia Snape and Bethan McCarthy lots of space to express themselves with their silky skills. The first half took a turn when great work by Brooke Harris sent Ellie Hilton free who, with pace and elegance, drifted around two of the opposition to send Eileen Ozpembe in. A great save by their goalkeeper kept the opposition on level terms. Other chances and saves were created by Georgia Snape, Pheobe Blanford and Izzy Downham.
The breakthrough came when quick thinking by Captain Ellie Hilton capitalised on a slow reacting Convent team at a long corner. Ellie took the set piece and ran into the circle, beat a couple of players and smashed the ball home.
We were having the majority of the play. Megan Marshall, Jess Brown, Eyrn Campbell and Abbie Copping were rocks at the back and even a saving clearance by our goalkeeper Jess Tolliday was thoughtfully done to set up attacks and turning dangerous moments in to attacking opportunities.
Convent got restless and we capitalised with a virtually carbon copy of the first goal – this time Bethan McCarthy doing the honours (with pace and skills) smashing home from a long corner.
Eileen Ozpembe soon added the third from open play with her first ever goal and half time wrapped up a superb opening half of the title defence campaign. Half time came and we talked of the tactics about sustaining pressure on the opposition and upgrading our attacks to get short corners.
Second half and the game started at real pace, end to end stuff, with our defence well on top, Eryn and Abbie really coming into their own and adding real quality to our already solid defence. Bethan sent Pheobe in and was unlucky not to score her first goal as the goalkeeper made a tremendous save from her. Izzy Downham was infiltrating the opposition with her pace and skill getting around the back and creating many opportunities for Ellie, Eileen, Georgia and herself.
Eileen went on two very skilful and mazy dribbles and went close, four short corners meant out tactics had really worked and the game drew to a close. Convent declared that Lucie Wicks was the most dominant player of our team, what a performance! Theirs was their centre back and their goal keeper which was a great compliment to our team effort.
Players of the match were Lucie Wicks, Bethan McCarthy and Eileen Ozpembe.
What a pleasure it is to coach this wonderful set of pupils. The next generation of Marshland Pink Ladies first team hockey.
Players were:

Jess Tolliday Pheobe Blanford

Jess Brown Ellie Hilton

Abbie Copping Megan Marshall

Eyrn Campbell Eileen Ozpembe

Bethan McCarthy Georgia Snape

Brooke Harris Lucie Wicks

Izzy Downham
U14 girls' Marshland High School V District Cup (4-10-16.)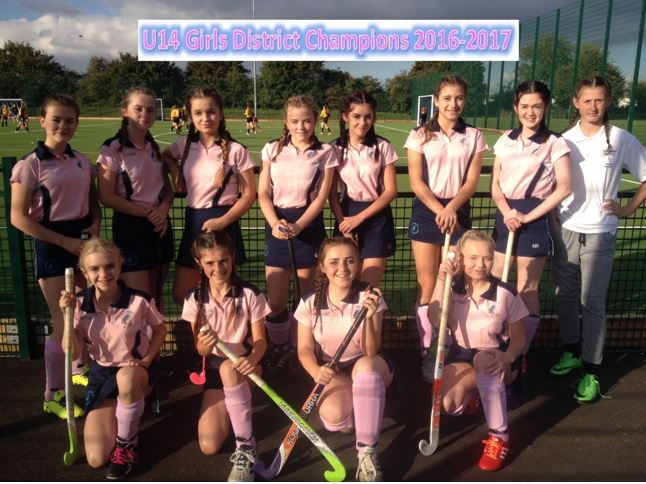 Last night our U14 girl's hockey team started their Marshland Pink Ladies Hockey campaign in the district cup, with two players making their debut.
Nerves were evident, as was the excitement, as our first game drew closer and we started our campaign against Convent of the Sacred Heart. We began really well and immediately forced the opposition into defensive mode and that's the way it stayed until full time. Our goalkeeper Savannah Plavecz didn't touch the ball, which cannot be said for their goalkeeper who made a stream of saves. Great work by captain Georgia Snape and our dynamic and very forceful midfield pairing of Eyrn Campbell and Lucie Wicks gave the opposition no chance. Izzy Downham went closest but the game ended 0-0.
Our second game against KLA was a much better game. Free flowing hockey and brilliant defensive work from Ruby Venni, Evie Emmett, Kizzy Moxey and the vocal Evie Warner meant KLA's attempts were very quickly broken down. Georgia Snape opened the scoring with a well taken goal and Chloe Sutherland soon slapped in our second (her first ever goal) after a well-timed run and pass by Neve Curson. The opposition came straight back at us and intuitive defending by Shanley O'Shea and Evie Emmett soon got the ball from them. This sent Izzy Downham away down the right, who in turn fed the ball to Georgia Snape who rifled the ball high into the goal, giving the keeper no chance. KLA were not out of it and even the fine attempt of Lucie Wicks sprinting the entire length of the pitch to chase down their attackers couldn't prevent them slotting the ball past our Keeper Savannah Plavecz. Our girls came out even quicker from the restart with a neat run by Neve Curson linking with Izzy Downham, to Chloe Sutherland and finished off by Eyrn Campbell with aplomb. 4-1 to us.
The previous results meant that we had to beat sports college KES to win the tournament. The game opened at real pace, up and down the pitch. Could our girls, or even their fitness hold out? Evie Emmett with a desperate clearance sent Chloe Sutherland down the line - she crossed for Neve Curson, a goal mouth scramble saw the ball trickle wide. So close. Eyrn Campbell and Lucie Wicks were now the dominant force in the game, leading to much more space for the silky skills of Georgia Snape to start to work. This, combined with the pace of Izzy Downham and the finesse of Chloe Sutherland started to take the game away from the Sports College. Shanley O'Shea went close a couple of times, as did Eyrn. A big interception, and delightful ball, from Evie Warner saw Georgia score our first. Soon after, Kizzy Moxey who had been sent up front (after playing at the back), popped in her first ever goal with a well taken slap and Neve Curson finished off the scoring. The game finished 3-0 to us.
So proud of them all, what a team performance! – CHAMPIONS 2016
Marshland High School 0-0 Convent
Marshland High School 4-1 KLA
Marshland High School 3-0 KES
Players were:
Savannah Plavecz, Evie Warner, Ruby Venni, Evie Emmett, Kizzy Moxey, Lucie Wicks, Eyrn Campbell, Izzy Downham, Chloe Sutherland, Georgia Snape, Neve Curson, Shanley O'Shea
Scorers:
Georgia Snape x3
Chloe Sutherland
Eyrn Campbell
Kizzy Moxey
Neve Curson
Players of the match – Georgia Snape, Lucie Wicks and Chloe Sutherland.
Thanks to Pelicans HC for the use of their new facilities