Unfortunately before you reach our Frog VLE you will see a Security Warning; this due to our ISP (Internet Service Provider) being unable to install a required SSL certificate.
Please be assured that although you will have to click on a link that suggests the site is dangerous or insecure, and shows a warning similar to the examples below, that our site is secure and all communication between our server and your PC are encrypted.
Marshland is currently running two versions of the Frog system, so please select the required version from the links opposite.
Internet Explorer - Warning Screen
Firefox - Warning Screen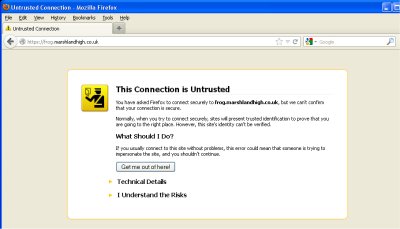 Google Chrome - Warning Screen