Do you ever feel that your children know more about online technologies than you do?
You're not alone. The Internet and online technologies are an important part of children's lives at home and school, providing great opportunities for learning, communicating, playing and creating.
As we know, these technologies create huge opportunities for us all; however, they can sometimes be a bit overwhelming, and present challenges to keeping your family safe online.
The Child Exploitation and Online Protection Centre (CEOP) is the UK's national centre dedicated to protecting children from harm both online and offline. CEOP's Thinkuknow education initiative aims to empower children and young people to enjoy online technologies safely.
CEOP have released the 'Parents' and Carers' Guide to the Internet' ‐ a short, entertaining TV‐style programme looking at what it's like to bring up children in the online world. The programme will help you to:
Stay up to date with the technology your children are using;
Understand steps you can take to keep your children safe online; and
Know what action to take and where to seek further support if things go wrong.
Useful Links
| Web Address | Description |
| --- | --- |
| | A link to the CEOP site, which provides parents with advice on Internet safety. |
| | A direct link to the 'Parents' and Carers' Guide to the Internet, including keeping your child safe online |
| | Welcome to Parents BBFC - the website which allows parents to make an informed decision about what films their children watch and the games they play. |
| Pocket Guide to Social Media Safeguarding | An A-Z Pocket Guide of Social Media Apps produced by the Norfolk Constabulary for parents. |
| Sexting Leaflet | A guide produced by the Norfolk Constabulary on the consequences of sexting. |
Is this really child's play?
I am a teacher in a boys' comprehensive school in London. My Year 7 class recently listed their favourite computer games as part of a survey. It turned out that most of the games were '18' rated and the boys were playing them for an average of 23 hours a week. I was quite worried by their conversations.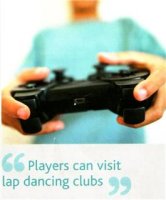 Black ops is the current favourite across Years 7 to 9, despite its rating. In Grand Theft Auto 4, also hugely popular with younger students, there is a sexual element too; players can visit lap dancing clubs (with fairly explicit graphics) and pick up prostitutes (with the option of beating them to death afterwards). The language is often obscene.
I think it is worth raising this issue with parents; those that I have spoken to were mostly unaware of the content of the games their children play. The website http://www.pbbfc.co.uk has helpful information.
Grand theft auto 5 is expected to break sales records when released. One of the tag lines on the publisher Rockstar's website is "pushing filth and ruining lives made easy" Perhaps it should be more difficult? If manufactures were required to explicitly state the reasons for the 18 certificate on the box, parents could make a more informed decision.