Hockey Success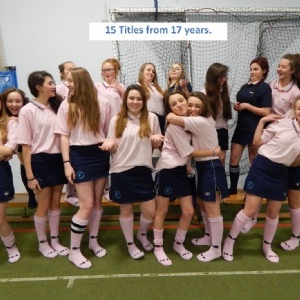 Marshland High Girls' Under-16 first team have unrivalled success within our West Norfolk District Hockey League.
Defending the title that we retained last year, our girls have gone from strength to strength. Currently we sit at the top of the league after winning two matches and drawing one, and with a goal difference of +9 we are looking good to win the title again. The girls are led by Captain Beth Brooker and Vice-Captain Ellie Brown who are key players in the mixed year 10 and 11 team.
Many of the girls have started to take the opportunity to take their skills into the community. They have started training and playing at the weekend with Pelicans Hockey club in King's Lynn – the same pitch on which we play our school matches. Community reports state that our girls are really adding to the Pelicans' squads, with young players such as Georgia Snape and Jess Tolliday winning player of the match awards and others like Chloe Sutherland, Evie Warner, Ellie Hilton, Eileen Ozpembie, Issy Downham, Luice Wicks, Eryn Campbell, Kizzy Moxey plus other are names to watch out for. The school is very proud of them all.