Gothic humour at our show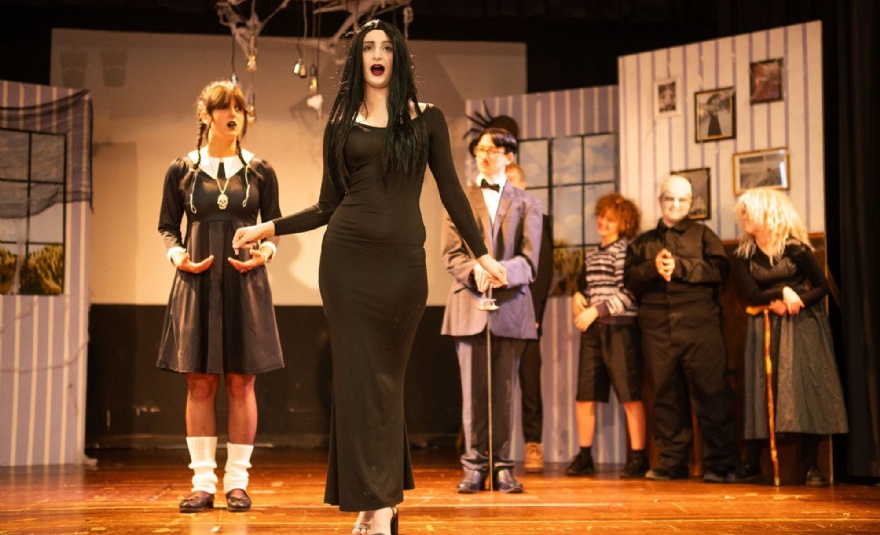 They're creepy and they're kooky, mysterious and spooky, they're altogether ooky… and they're here!
As the clocks change and Halloween has been celebrated, an appropriately Gothic family is putting in an appearance at our school.
Morticia, Gomez, Wednesday and Puglsely will be joined by Uncle Fester, Grandmama and Lurch, when Marshland High School stages The Addams Family Musical from November 7 to 9.
The famous family, created by cartoonist Charles Addams in the 1930s, has featured in several television series and films, including the recent Netflix hit Wednesday. The musical is the first based on the popular characters and won several awards on Broadway.
"We have 32 pupils in total taking part, with backstage and performers ranging from Years 7 to 10," said Jayne Dix, Head of Drama and director of the show.
"Besides the cast members, we have pupils involved in making and painting props and set, back stage, lighting and projections. There is also one involved with creating the green screen film.
"The highlight of the performance will be seeing the commitment of the pupils and their strive for perfection."
"Musicals like this are very important as they showcase the amazing talent of pupils and show all our core values," continued Mrs Dix. "They help memory recall, and they build talent and commitment, as well as follow all our core values as a school.
"The show is open to the public and suitable for all ages – my five-year-old is very excited to see it."
Staff members assisting with the production include music director Kevin Bell, dance teacher Katie Howard, costume designer Ester Forest, and prop and set designer Holly Welsh, along with Jasmine Moore. Volunteers Shaun Jones and Jack Calvert are providing lighting and technical support.

Performances of The Addams Family Musical take place in the school at 6.30pm on November 7, 8 and 9. Tickets cost £7 and may be bought on the door, or in advance through ParentPay.