Joining forces for a fantastic free community event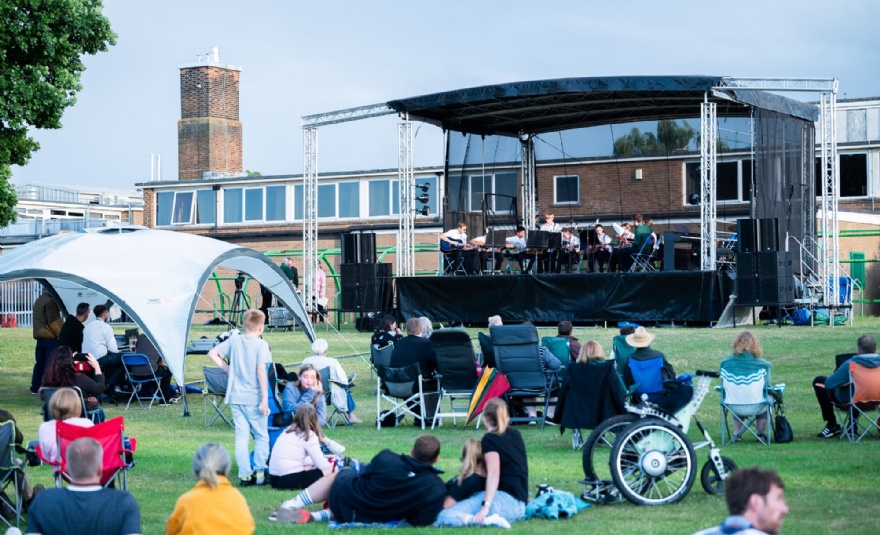 A popular community music event returned to King's Lynn recently delighting music lovers with a week of free entertainment.
The West Norfolk Academies Trust Community Music Week brought together musicians from the Trust's 11 schools, along with those from other music groups in the area for a series of performances.
Held in the grounds of Springwood High School, the event catered for a cross-section of musical tastes and attracted around 900 attendees who enjoyed four packed evenings of entertainment.
"It was an amazing week of performances showcasing the breadth and talent of music-making in West Norfolk, with everything from choirs to orchestras, concert bands, acoustic covers and even a bit of punk rock," said Robin Norman, Head of Music at WNAT.
"You could say there was something for everyone, and the feedback was tremendous."
The week began with an ensemble performance from instrumentalists from different primary schools, before Springwood musicians joined forces with fellow WNAT high schools St Clement's and Smithdon for 'Transition' Ensembles, where the older students performed alongside younger pupils.
A 'Pot Pourri' and Jazz evening rounded off the eclectic opening programme, featuring Springwood's Kingsmen, Brass Ensemble, Saxophone Ensemble and Big Band with community groups Catleugh Brass and Centre Stage Swing Band.
Rock and pop came next with a selection of bands and soloists headlining at Tuesday's Showcase, including musicians from Springwood, the College of West Anglia, and Marshland High School – another WNAT member.
Wednesday's WNAT Vocal Showcase celebrated the 100th anniversary of Disney, where singers from Heacham Infant and Junior Schools, Snettisham Primary, Gaywood Primary, West Lynn Primary, Clenchwarton Primary and Walpole Cross Keys Primary joined voices with choirs from Springwood, Marshland, Smithdon and St Clement's High Schools, bringing all the Trust's member schools together for a performance finale.
On the final day, it was time for the Grand Band and Orchestra Finale, which starred Springwood's Sinfonia, Junior Band and Concert band, along with King's Lynn Town Band and King's Lynn Community Band.
"Music is central to the work we are doing across the Trust now, and we want to support the whole of West Norfolk in enjoying music, by giving the opportunity to the local community to experience some live music performances without charge, and also by giving performance opportunities to all local amateur music organisations," said Mr Norman.
"The dates are already set for our Community Music Week next summer, and we would welcome as many members of the local community, and the whole of West Norfolk, to join us in celebrating the rich diversity of musical talent both within WNAT schools and also within wider community groups."