Marshland's best ever GCSEs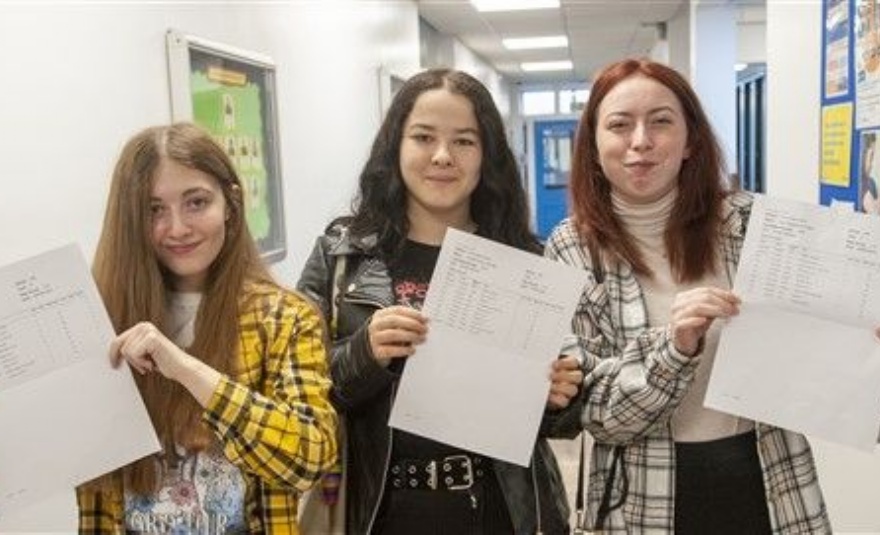 Our students are celebrating our best-ever exam results with 65 per cent achieving a grade 4 or more in English and maths. Our last comparable GCSE results in 2019 saw 59 per cent of students attain a 4+ in the same key subjects.
There were also outstanding performances within the English Baccalaureate subjects of English, maths, science, French, German, history, geography and computer science, while other GCSE subjects achieving exceptional examination results included food, 3D design, business studies, film studies, PE and photography.

In all, 18 of the 22 subjects examined at GCSE achieved a performance significantly above the aspirational target grades of 5+ and 7+.
Headteacher Craig Jansen said: "Our students and staff worked incredibly hard to ensure a very high level of performance across all subject areas.

"I am truly overwhelmed at the phenomenal results that have been achieved today. So many of our students significantly exceeded their aspirational targets."

Among the school's high achievers were Evie Lane, Amy Holmes, and Seth Mayer, who are all off to Springwood Sixth Form.

"I enjoyed my time at Marshland," said Evie. "I had teachers that went above and beyond, and supported me through some trying times. I will be forever grateful for the kind, caring nature that stopped the little problems becoming big ones, and enabled me to reach my full potential."

She continued: "I am going to study A Levels in psychology, maths and biology at Springwood Sixth Form.
"They are all subjects I will enjoy. I hope to go to university to continue studying psychology. After university, I would ideally like a career as a psychotherapist – this is something that has always interested me."

Fellow Year 11 student Amy Holmes said: "I thoroughly enjoyed my time at Marshland High School, and found I was provided with a very positive learning environment, both in and out of lockdown.

"I am going on to Springwood Sixth Form to study economics, business and criminology, and, in the future, I would like a career in either crime investigation within the police force, or a role in business management."

And Seth added: "I have enjoyed my time at Marshland High School, because of the supportive teachers and great pastoral support.

"I had lots of well equipped learning opportunities, including enrichment and extracurricular activities. I had the opportunity to attend Saturday school to extend my learning and support me within one of my weaker subjects, which I have now done really well in.

"The A levels I am planning to do are maths, further maths, physics and chemistry at Springwood. When I leave university, I would want a career in the field of either robotics or aerospace engineering."

Mr Jansen was full of praise for the students and staff. "This set of examination results is a testament to the huge resilience, determination, hard work and ambition shown by so many of our students, and to the brilliant teaching and support they have received each and every day from staff at Marshland."

With his daughter, Scarlett, among those achieving excellent GCSE results, Chair of Governors, Steve Cozens, had extra reason to be thrilled with this year's examination results.

"It is so important that we acknowledge the efforts and success of our students, staff and school," he said. "Despite the disruption caused to the education of our students by the pandemic, the outcomes today are an accolade to their efforts and perseverance. I am so proud of all of them."

Scarlett said: "I am very happy with my results, and I would like to thank all of my teachers for encouraging me, and pushing me to work harder and get the GCSEs that I need for Springwood Sixth Form. I'll be studying A Levels in art, history and criminology."
---
Additional photos can be found here.