Moving testimony from Holocaust survivor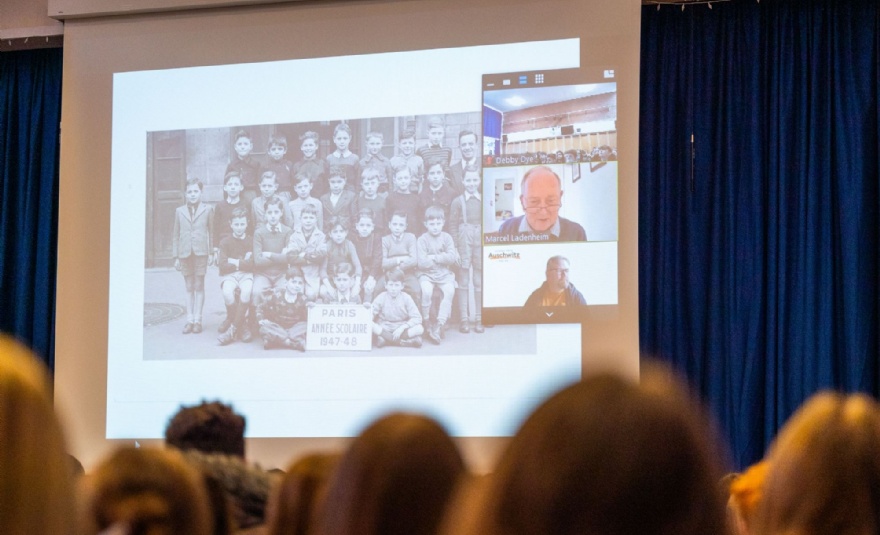 Our students heard first-hand the moving story of how a Holocaust survivor was hidden from the Nazis by two brave sisters.
Marcel Ladenheim held an online webinar with year 9 students, who have been studying the genocide carried out during World War II.
The students heard his incredible testimony in which he told how he was hidden by two sisters for the duration of the war when he was a young child.
They spoke of being moved, shocked and saddened by his story - but pleased that it reflected the heroism of the sisters.
One student felt that it was important to hear as it has made her realise how lucky we are in Britain.
This is the fifth year our school has arranged for students to hear a survivor give an account of their experiences in conjunction with the Holocaust Education Trust.
Marcel's family had fled to Paris in 1938 after the annexation of Austrian by Nazi Germany.
Marcel was just two years old when his father was arrested by police in Paris. In a desperate situation, his heavily pregnant mother decided they should go into hiding but the stress of the situation led to her being hospitalised.
At great risk two sisters Olga and Esther Masoli hid Marcel for the duration of the war.
As he was so young, Marcel was unaware of the dangers and so told of his happy memories of this time, such as enjoying glorious Christmas days with toy soldiers and toy cars.
Marcel and his brother had been split up when Marcel went to live with the Masoli sisters, but were reunited at the end of the war.
His mother survived, but sadly his father was killed in the Auschwitz concentration camp.
Later in life Marcel studied at Manchester University and worked as a dentist until his retirement in 2002. He lives in Surbiton with his wife, Bobbie and has three children and five grandchildren.
Our students were given the opportunity for questions at the end, which included asking about what had happened to his brother during the war.
Marcel explained that he had been looked after by another family but no one knew who they were.
He was asked what nationality he feels, and Marcel replied that he feels very British, he supports British sports team and thanks Britain for the opportunities he has been given here,
He was also asked if anyone had ever questioned the sisters as to who he was when he was with them - but he said he felt very lucky that they were never questioned and the neighbours did not enquire.
Debby Dye, head of humanities at Marshland High, said: "It is important that we run this event every year so that we remember events accurately - it also gives a human face to the history of the Holocaust."
---
Additional photos can be found here.