Students sample European menu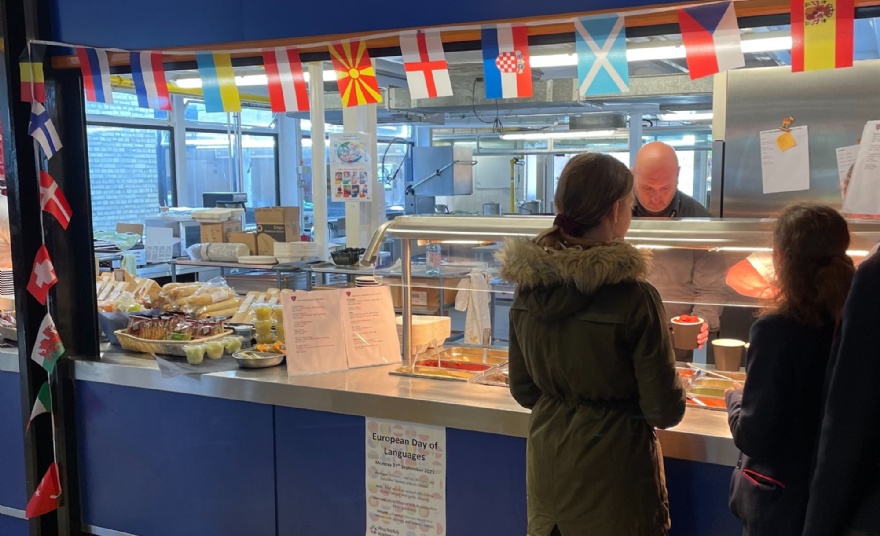 Our students sampled an unusual lunch menu featuring foods from Italy, Germany, Finland and Portugal as part of a day encouraging learning of European languages.
Different kinds of ravioli, pork schnitzel with bratkartoffeln (German potatoes), lihapullat (Finnish meatballs) and a chicken, chorizo and chickpea dish were the foods enjoyed by pupils across the secondary schools in West Norfolk Academies Trust (WNAT)
Activities were co-ordinated in Marshland, St Clements, Springwood and Smithdon High by each of the heads of modern foreign languages.
It was the first time our school marked the European Day of Languages with a dedicated menu, which gave students the chance to sample both sweet and savoury foods and discover new dishes they had never tried before.
A range of activities also took place across the schools to support the day, including heads of department delivering material about how languages link with their subject area.
Some staff asked students to greet them in a different language, while the PE department ran European tournaments in a number of different sports.
Students were divided up into different European countries - Spain, France, Germany and Portugal - and encouraged to name as many different players in each sport from that country and to keep score in the language spoken by each country.
One pupil said: "One of my favourite parts about the day was the food. The canteen had prepared food from different countries. There were a variety of different foods including Schnitzel and meatballs. It was so good. I was so surprised.
"The school was decorated with bright flags - it looked incredible. Thank you to the staff who arranged a perfect day."
Another said: "In tutor time we had a presentation about how to say hello in lots of different languages and a virtual assembly.
"At lunch there were different meals to choose from, I went for the meatballs which were amazing and my friends picked other choices and they loved it as well.
"I really enjoyed celebrating all the different languages from around Europe. Thank you to all the teachers for making this possible."
European Day of Languages, an event celebrated internationally, is held annually to reflect upon the importance of language and to encourage multilingualism.
It aims to promote awareness among the public of the importance of language learning and ultimately help protect linguistic heritage.
Katie Featherstone, Trust Lead of Modern Foreign Languages at WNAT, said: "A huge thank you to the catering and site teams at all schools for organising and ensuring the day was a success. Thank you to Heads of MFL for planning an exciting day that celebrated multilingualism and cultural diversity.
"It is the first time we have varied the menu to celebrate European Day of Languages. We absolutely would do it again because it was so well-received by students and staff. Students really enjoyed the opportunity to try different foods and were keen to discover dishes they'd never tried before."