Young chef for Rotary competition ​​​​​​​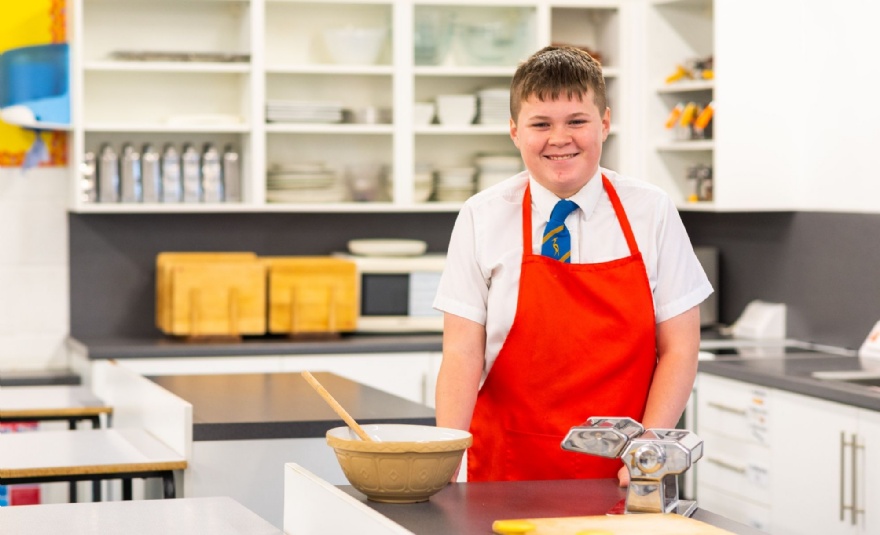 A budding young chef has been chosen to represent our school at a cooking tournament.
Our students battled it out in the kitchen to be selected for the regional stage of the Rotary Club's Young Chef competition.
The winner of the last round of the competition, which involved four finalists, was Bayden Stacey-Simpson, who is from year 10.
He will now go through to a regional cook-off to compete against students from other schools - in the hope of securing a coveted place at the final.
The Rotary Club's Young Chef competition was launched at Marshland High by chief organiser John Thorpe.
The selection process involved each student coming up with their own two-course menu, sticking to a budget of £5.
The dishes included spaghetti bolognaise, steak and chips, fried chicken, salmon, burgers, pavlovas and brownies.
A lesson on meringues ahead of the second round of the competition was also put into good practice with the creation of desserts such as pavlovas.
The students were marked on their culinary skills including organisation, execution and flair, with the winner selected after an extremely tight final round.
Stevie Goddard, our head of food, said: "Competition can really give students purpose and brings real-life urgency to the kitchen environment.
"This competition, at the very beginning of a new year with a new teacher, and after months of disruption, devoid of the opportunity to practise, has provided the perfect challenge - testing the students' creativity, speed, and intuition in the kitchen.
"I was delighted to see the fantastic range of dishes which the students created - congratulations everyone who took part, and best wishes and good luck to Bayden in the next stage of the competition."