Students chosen to write poignant poem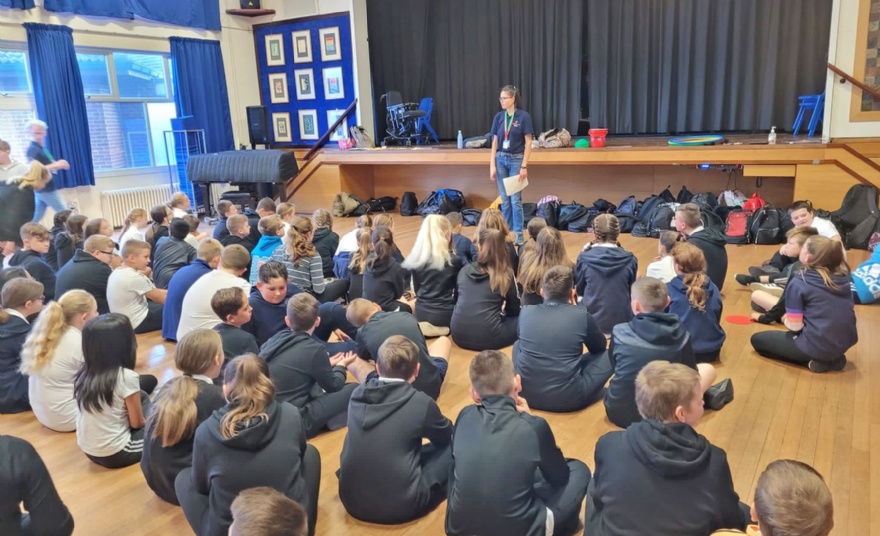 Our students have joined schools across the UK to write a poignant poem marking the anniversary of an accident which claimed the life of a Red Arrows pilot.
The death of Jon Egging during a display at the Bournemouth Air Festival in 2011 inspired his widow to set up a charity in his name, which works to help young people reach their full potential.
The charity has held a number of sessions at Marshland focusing on building confidence and teamwork, as well as developing leadership and communication skills.
Jon Egging Trust (JET) students from Marshland were lucky enough to be among pupils chosen from across the UK to write 'My Future Dreams' to mark the anniversary.
The poem reflects the positive impact the JET confidence-building programmes have had on 30,000 young people the charity has supported since 2011.
Jon's widow Dr Emma Egging also met with our students virtually to thank them for their contribution, talk about the charity's work and give her top tips for dealing with adversity.
The lines the Marshland High students - who are now in year 8 - contributed were: 'Jon Egging has inspired us all to keep going/To take strides each day.'
It ends with the words: 'I'm now above the clouds and the light is shining on me / Flying high to a bright future/ Feeling free to climb to my destination'.
The poem is on a plaque which has been installed as a permanent addition to the Jon Egging Memorial at East Cliff in Bournemouth, and was presented to Bournemouth Mayor Councillor David Kelsey.
Mr Dominic Stannard, Head of Character and Culture at Marshland High, said this was the third academic year that the school had been working with the JET.
He said: "Initially we did some JET sessions for year 7 to 11 virtually during the January to March lockdown, and they went really well.
"Then when we came back into school from March onwards we did some face to face sessions, and with years 7,8 and 9.
"Our year 7s were the ones that were chosen to do the poem, who are now our current year 8s.
"Part of writing the poem involved the skills they are trying to develop of leadership, communication and confidence.
"Emma Egging set up the charity in her husband's name, as he was a big believer of giving students the opportunity to develop those sorts of skills.
"We have also had the JET do a full day with all of our Year 7s - as they didn't have 'jump up day' their transition was very different to normal.
"The idea was to build confidence and do lots of team building skills - it gave them the opportunity to get to know other people and help with that transition."