Playwright success in national competition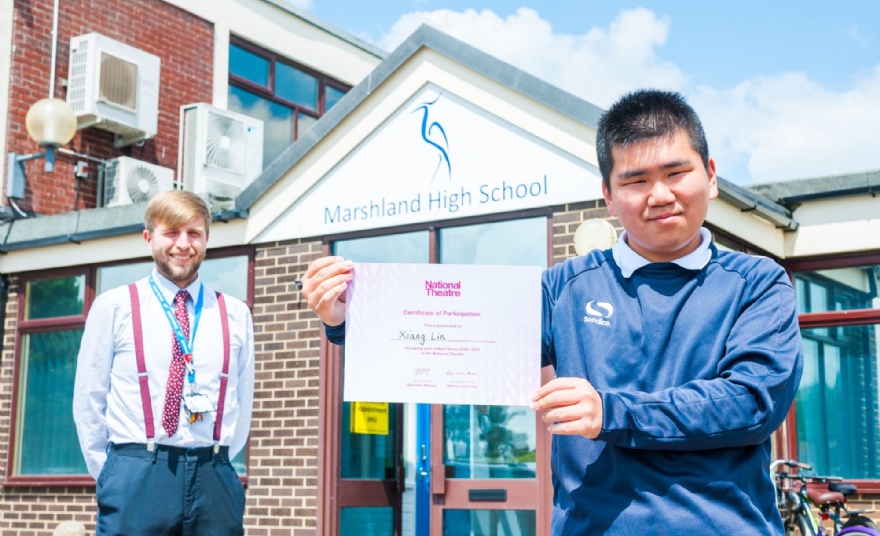 Our student Xiang Lin is experiencing a taste of London's top stages as his work has been recognised by judges at the National Theatre.
The young playwright was long-listed as part of the theatre's annual playwriting competition for young enthusiasts aged from 14 to 19. Appearing on the longlist is a major achievement in itself as the event attracted record entries this year.
"It was fabulous news that Xiang's work had made it that far in this prestigious competition - it's a huge achievement and we are all incredibly proud of him," said Joe Clark, our literacy lead.
Xiang's play, Musically Inflicted, was chosen from among a total of 400 entries from 74 schools and colleges to make it onto the long list of finalists.
"I really wasn't expecting it and was pretty dumbfounded when I was told," he said.
But it wasn't the only success he has had with words; he was a runner-up last year in an essay writing contest in Cambridgeshire.
Xiang is hoping to have a musical future and plays both the guitar, which he first started at the age of 8, and the piano. He will start Year 11 at Marshland in September and will be working for his GCSEs.
"Writing is something I would like to do, but when I leave school I want to pursue a career in music if I can," he said.
The National Theatre's programme was delivered completely online this year with workshops with professional writers, a playwriting course and the chance to watch its productions online. Students also wrote their own original 30 minute play, exploring topical issues from mental health and the pandemic to politics and relationships.
"In what was a landmark year that took a particularly heavy toll on young people and the performing arts, it was thrilling for us to receive over 400 submissions from all over the UK," said Nina Steiger, head of Play Development and member of the judging panel.
"The final plays were about identity, imagination and love and the bravery of expressing these elements of what makes us human and perhaps what we've missed most about being together," she added.
The final eight plays were performed as rehearsed readings by professional actors at the theatre based on London's South Bank and applications are now open for the 2021/22 competition with more details at www.nationaltheatre.org.uk