Marshland science students learn from the very best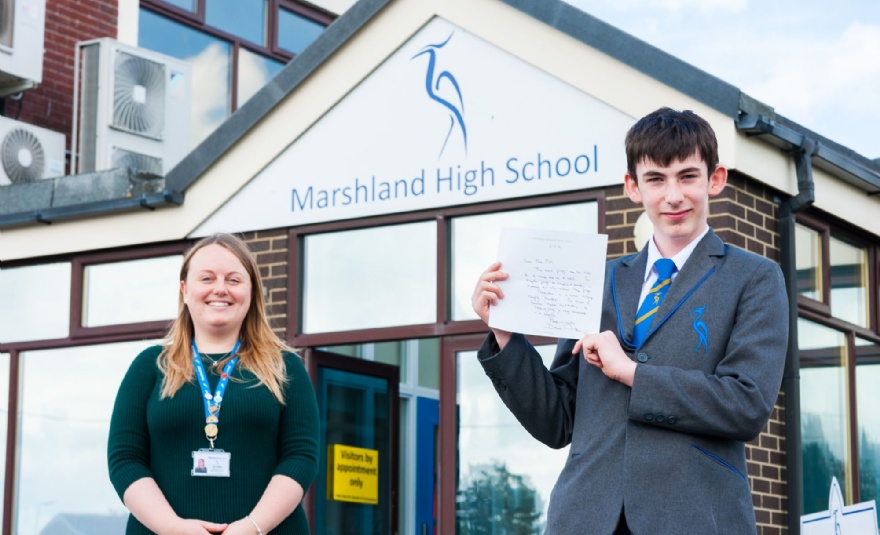 Our Year 7 science students can teach every one of us a lesson about the power of trying your luck and being hopeful, after they wrote to legendary natural history Sir David Attenborough with a query about their studies – and received a handwritten reply.
When they were learning about birds, the students wondered why it is that birds of prey, who use their talons to catch their food, are so called, rather than being known as birds of predator, and who better to ask than one of the most instantly recognisable, respected and authoritative figures in the world of science broadcasting? They wrote to the 95-year-old at his home address in Richmond, Surrey, and were stunned when he got back to them.
"Eagles 'prey' on smaller mammals, who are also called their 'prey'," he wrote. "'Predators' is a noun meaning, roughly, hunters. So 'birds of hunters' makes no sense; 'birds of prey' is very accurate - and shorter. Best wishes, David Attenborough."
"The class are overjoyed, as am I, that he replied," said teacher Ellen Castley. "I can't stop telling everyone!"
Attenborough's multi-award winning broadcasting career dates back to the 1950s, and he has made numerous programmes covering all aspects of the natural world, with some of his most famous being Life on Earth and The Blue Planet. This year saw the BBC broadcast his most recent series, A Perfect Planet.
Although best known for his programmes about the animal kingdom, in 1998 Attenborough made a 10-part series called The Life of Birds. By replying to that letter, he has earned himself a new classroom full of admirers at Marshland High – and they in turn have taught us all a lesson we would do well to remember. Don't ask, don't get!